Multi Family / Apartments
Development | Property Management | Multi Family Brokerage
Vintage Realty Company provides a wide array of services in the multi family industry. Everything from ground up design and construction, day to day management, and brokerage sales are in the scope of our services.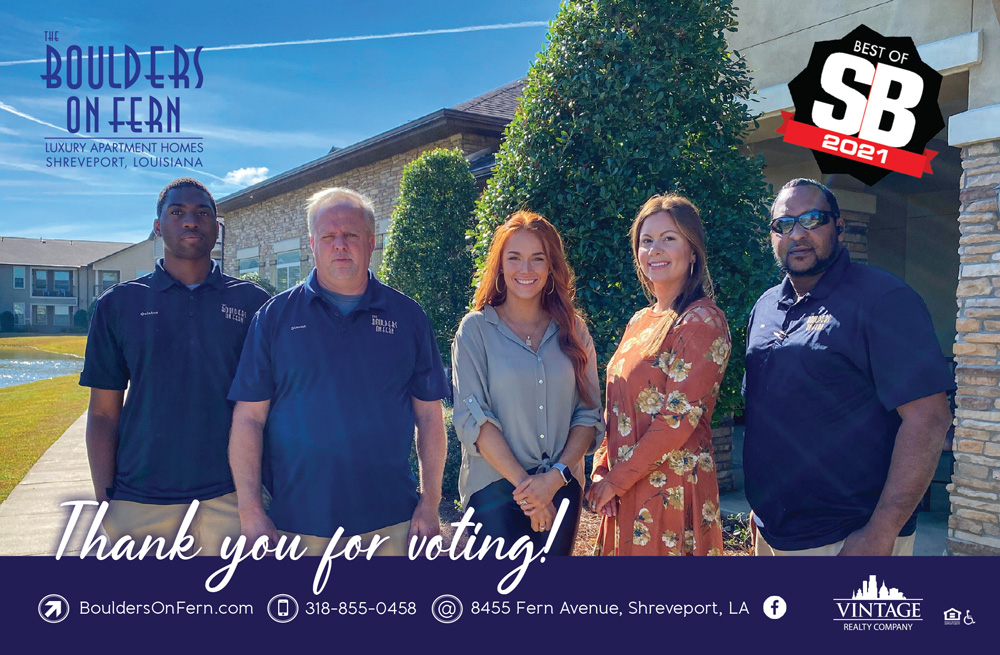 AWARD WINNING APARTMENTS
Our apartment communities are regularly recognized for being the best in their market! Here are a few of our recent awards voted on by locals in their respective cities. Congratulations to our teams!
2021: Boulders on Fern Best Apartments by SB Magazine (Shreveport)
2021: Elan at Terra Bella Best St. Tammany Parish Apartments by Northshore Magazine (Covington)
2020: Boulders on Fern Best Apartments by SB Magazine (Shreveport)
2020: Nelson Pointe LC Garden Club's Landscape Award (Lake Charles)
2020: Riverscape Shreveport Bossier Apartment Association Manager of the Year (Heather Luebbert)
2020: Magnolia Trace Cenla's Choice (Alexandria)
2018: Riverscape Shreveport Bossier Apartment Association Maintenance Technician of the Year 2018 (Daryl Henderson)
2017: Boulders on Fern Best Apartments by SB Magazine (Shreveport)
PROPERTY MANAGEMENT SERVICES
The Multi-family Department at Vintage Realty Company enjoys a reputation as one of the most progressive and dynamic apartment management firms in Louisiana. Current and future residents enjoy first class service from the experienced staff.
Apartment Management highlights include:
Highly Skilled Onsite Property Managers and Maintenance
State Of The Art Management Software
Custom Website Development
Online Rent Payments and Service Requests
Purchasing Power Based On Our Entire Portfolio
Development and Value Add Expertise
Community Events
The Vintage Multi-family staff holds industry designations including CAM (Certified Apartment Manager), CAMT (Certified Apartment Maintenance Technician), and CPM (Certified Property Manager).
MULTI-FAMILY MANAGEMENT CONTACTS
Sarah Parsons
Department Head of Multi-Family
Laura Brabham, CAM
Regional Property Manager
Mallery Causey
Multi-Family Administrative Assistant
Frank Halbur, CAMT, CPO
Director of Maintenance Multi-Family
Dylan Lewis, CAM
Regional Property Manager
Hailey Brinkman
Multi-Family Administrative Assistant
Laura Castillo
RealPage & Social Media Specialist
Grayson Nale, CAM
Multi-Family Administrative Manager
Monica May
Regional Property Manager
MULTI FAMILY APARTMENT DEVELOPMENT
Vintage Realty Company prides itself on developing the best apartment communities. David Alexander is Director of Vintage's multi-family development team and has been in charge of the numerous projects totaling 3,800 units throughout Louisiana and Arkansas with another 1,050 units either under construction or in the development phase. The current Vintage multi-family portfolio represents a total market value of approximately $550,000,000. Each apartment community has been specifically tailored to the area around it bringing convenience and comfort to the residents.
MULTI FAMILY BROKERAGE
Multi Family Investment Brokerage with Vintage Realty provides investment solutions and strategic guidance on stabilized multi housing assets or distressed properties. Our services include Broker's Opinion of Value, Disposition Analysis, Apartment Market Reports & Evaluations, Brokerage & Transaction Management.
Luke Nicholls
Multi-Family Brokerage & Development
John A. Hamilton
Multi-Family Brokerage, Associate Broker